---
---
BASN AM80 Podcast Equipment Audio Mixer Live Broadcast Sound Card with 2 Drivers Earphones, 3.5mm Microphone Sound Mixer Board for Live Streaming(Black)
【Multiple Sound Effects】This sound card mixer has totally of 15 kinds of sound effects, 5 voice changers, easy to use and operate, you can easily choose a variety of interesting sound effects to make your live stream more interesting.
【Well Audio Processing】BASN AM80 audio mixer built-in DSP high-speed digital reverberation processor, Equalize, Reverb and control faders, can effectively process the live or recorded sound, making it more attractive. Can be used for live singing, chat or music recording, etc.
【One Press Dodge】The "Dodge" button of this sound card mixer can adjust the volume of the background music. The background volume will automatically be reduced when you are speaking and automatically restored after speaking.
【Portable Earphone】This AM80 live sound mixer comes with a pair of headphones. Which allows you to walk around without holding the mic when on a live stream. Also, these headphones can be used in daily life: listening to music or doing a phone calls.
【Dual Live Support】The Live sound card AM80 equip with two live interfaces, and two microphones interfaces, support dual mobile phone live broadcasting. Insert Bluetooth 5.0, can connect a mobile phone to play the accompaniment. And also can connect the music instrument with a 3.5mm cable.
【Bluetooth connection】Insert Bluetooth 5.0, you can connect a mobile phone to play the accompaniment. You can also connect your phone and music instrument with 3.5mm audio cables.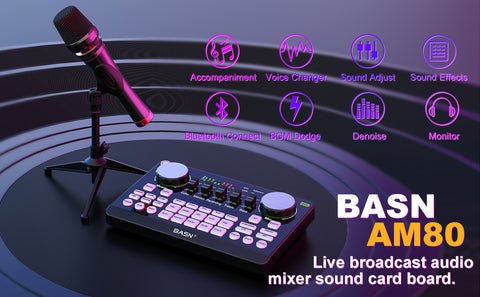 ---