BASN In-Ear Monitor for Drummers
In-ear monitors (IEMs) are an essential part of any drummer's arsenal. These nifty little things offer you vital hearing protection. They can help glue together a group of lost solo musicians to become a unified musical weapon.

In recent years, in-ear monitoring has been seen as a staple in the professional touring industry. They have also become more affordable and go a long way to helping any beginners get to grips with playing alongside other musicians.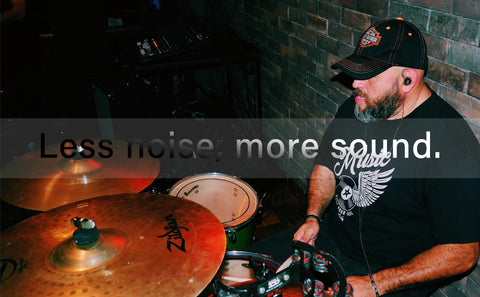 Why are In-ear Monitors so useful?
In-ear Monitors are not your typical headphones, headset, or earphones, so to say. They are more of a lightweight earpiece that ultimately gives more clarity regarding the sound a musician hears (on stage or while recording), for an all-around better sounding performance. They are an invaluable piece of gear and a good purchase!
Learning to play in time with a click is one thing, but playing in time with a group of other people who are often not functioning on the same wavelength is another thing entirely. This is where in-ear monitors can really prove their worth.
By allowing you to control exactly how much of each other instrument you can hear, IEMs can provide a straightforward solution for people wanting to solidify their performance as a timekeeper.
Also, protecting your ears from the harsh sounds of the stage is very important for any musician. As a drummer, it is something that should be considered from the first moment that you pick up the sticks.
Some may argue that any pair of earbuds, by cranking up the volume, will get the job done but this has proven to be very damaging to your hearing in the long run. In the same situation, a good set of in-ear monitors can be used at a lower volume that is safer for the user and will return a higher overall sound quality. Along with user comfort, this is one of the main things that you should consider when shopping for IEMs.
Top recommended IEMs are the BASN Bmaster for drummers who frequently gig or record music. BASN Bmaster is a very nice option. It's great value for money, particularly for touring musicians.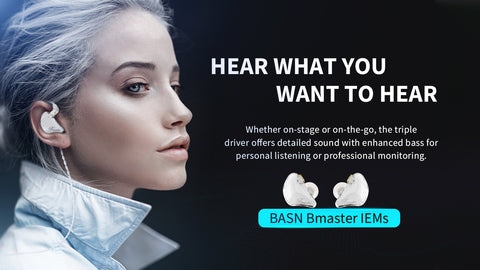 With isolation tech, a lot of the outside noise is blocked. This, added to the beautiful in-ear sound quality makes for a nice listening experience. You can hear the lows, clear mids and highs, and good treble.
From over-the-ear, ergonomic wear design to a whole lot of ear tip options, the Bmaster is incredibly comfortable. You can choose between silicone tips, triple-layer, or memory foam ear tips for the best fit. 
Another great thing about BASN Bmaster IEMs is that the cable is detachable. So, not only can you upgrade to a different cable, but also replace a damaged one very easily. This makes them highly durable. 
It doesn't matter whether you tour extensively or record music at home, the BASN Bmaster is an ideal, all-around earbud for all drummers.
Second recommended IEMs are BASN Bsinger. They're a nice pick if you're looking for a pair of IEMs on a budget. You'll love the combination of the balanced audio profile, ergonomic design, and memory ear hook. The replaceable cable means you can easily swap for another one for compatibility reasons.


The ergonomic and universal fit is ideal for users that want to enjoy long-lasting comfort. The earbuds lock into place once inserted into your ear canal. You can also choose the eartip that matches your ear size to obtain the ideal fit. Also, adjustable earhooks are included that can bend over a thousand times before wearing out. The dynamic powerful micro driver come with a PET and copper diaphragm. The frequency range is a solid 20-20KHz, which is what the human ear can hear. The crisp definitions of the highs and balance of the mids means you'll appreciate your drums.
To conclude, the BASN Bsinger in-ear monitors are a smart choice for the budget buyer that wants competitive performance. They are ideal for all musicians and can even be used at a few professional gigs too. 
Conclusion
BASN In-ear monitors are necessary for drummers who either record in a studio or play live on a stage. They help you hear your instrument much better and allow you to stay in sync with the rest of the band members. Choose one of them to color your music life!
---