Dynamic In-Ear Monitor Headphones
Dynamic in-ear monitors (IEMs) are a type of earphones or headphones designed specifically for professional audio monitoring purposes. They utilize dynamic drivers, which are a common type of speaker driver technology used in audio devices.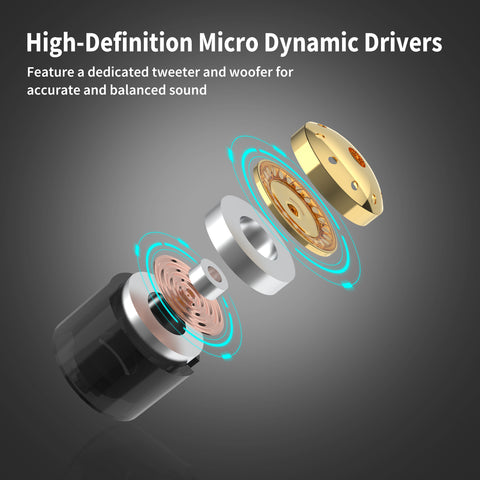 Here are some key characteristics and features of dynamic in-ear monitors:

Dynamic Driver Technology: Dynamic drivers consist of a diaphragm, voice coil, and magnet. When an electrical signal passes through the voice coil, it interacts with the magnet, causing the diaphragm to vibrate and produce sound. Dynamic drivers are known for their ability to deliver impactful bass response and overall warm sound signatures.

Audio Fidelity: Dynamic IEMs are capable of producing high-quality audio with a wide frequency response range. They can accurately reproduce different frequencies, resulting in a detailed and immersive listening experience.

Comfort and Isolation: In-ear monitors are designed to fit snugly in the ear canal, providing a secure and comfortable fit. This fit, combined with the use of foam or silicone ear tips, helps to achieve effective noise isolation by blocking out ambient sounds. It allows musicians, audio engineers, and performers to focus on their music without distractions.

Durability and Build Quality: Professional-grade IEMs are built to withstand the rigors of live performances and frequent use. They often feature robust construction, reinforced cables, detachable cable options, and replaceable components to ensure longevity and ease of maintenance.

Stage Monitoring and Live Performances: Dynamic IEMs are commonly used by musicians, singers, and audio professionals for stage monitoring during live performances. They allow performers to hear a mix of instruments and vocals in real-time, enabling them to stay in sync with the band or monitor their own performance.

Dynamic in-ear monitors provide a reliable and high-quality audio monitoring solution for professionals in the music industry, delivering accurate sound reproduction, comfort, and noise isolation. They are popular among musicians, audio engineers, and audiophiles seeking a balanced and immersive listening experience.
BASN Bsinger series is the dual dynamic driver in-ear monitor headphone, it delivers full and balanced sound with crisp highs, natural mids, and powerful bass, which brings about a shimmer to every instrument.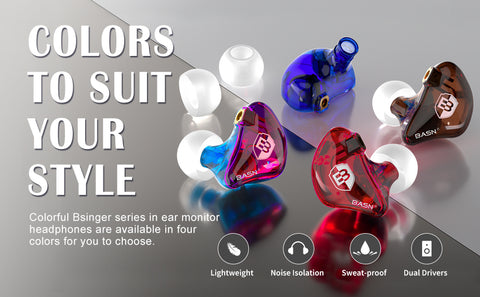 ---