OEM/ODM Customize In-ear Monitor headphones
BASN is a headphone factory that specializes in producing high-quality in-ear monitors and Bluetooth headsets. We have extensive experience in the earphone industry, with a dedicated team of professionals, including research and development (R&D) staff, as well as quality control (QC) and quality assurance (QA) personnel.

Are you looking for a reliable and experienced headphone factory and supplier to bring your unique product ideas to life? Look no further than BASN! With a strong focus on OEM (Original Equipment Manufacturer) and ODM (Original Design Manufacturer) services, BASN is your dedicated partner in creating customized headphone solutions.

One of the key strengths of BASN is its ability to accept customized orders from customers. Whether you are looking to create a unique brand of in-ear monitors or develop a specific product according to your requirements, BASN is equipped to handle your customization needs.
When working with BASN for customization, you can expect the following:
Customization Capabilities: BASN offers a comprehensive range of services to support your OEM/ODM projects. This includes product ideation, design and engineering, prototype development, manufacturing, branding, packaging, and timely delivery. BASN's state-of-the-art facilities, advanced technologies, and strict quality control measures guarantee that your customized headphones are crafted to the highest standards.
Product Ideation, Design and Development: BASN will work closely with you to understand your vision and requirements for the customized headphones. We will listen to your product ideas and specifications and provide valuable feedback and insights. BASN's experienced R&D team will translate your ideas into tangible designs. We will collaborate with you throughout the design and development process, ensuring that the final product meets your expectations in terms of aesthetics, functionality, and performance.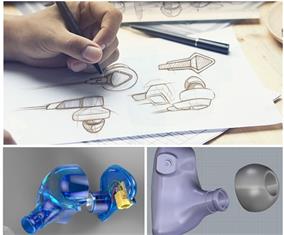 Manufacturing and Quality Assurance: Once the design is finalized, BASN will proceed with the manufacturing process. The skilled technicians and advanced production facilities ensure the production of high-quality customized headphones. Strict quality control measures are implemented at every stage to maintain product excellence. With BASN, you can have confidence in the durability, performance, and overall excellence of your customized headphones.

Branding and Packaging: If you are interested in creating your own brand, BASN can assist with branding and packaging customization. We can incorporate your logo, colors, and other branding elements to create a cohesive and personalized product.
Timely Delivery: BASN is committed to delivering orders within the agreed-upon timeframe. We prioritize efficient production processes to ensure timely delivery of your customized headphones.
Confidentiality and Intellectual Property Protection: BASN understands the importance of confidentiality and intellectual property protection. We prioritize maintaining the privacy and exclusivity of your designs, ideas, and proprietary information. You can trust that your OEM/ODM projects with BASN will be handled with the utmost professionalism and confidentiality.
Overall, When it comes to OEM/ODM headphone solutions, BASN is the ideal partner for your customization needs. With our experience, expertise, collaborative approach, comprehensive services, and commitment to quality, BASN is dedicated to helping you bring your unique headphone products to the market successfully. BASN's ability to accept customized orders allows you to bring your unique headphone ideas to life. Whether you are an individual, a brand, or a business, BASN can collaborate with you to create tailored products that meet your specific requirements.

To explore how BASN can assist you with your OEM/ODM orders, visit our website: www.headphoneoem.com or contact us directly at basnaudio@outlook.com. Start your journey with BASN today and transform your headphone ideas into reality!
---