Some Tips on Using Silicone and Memory Eartips
Using silicone or memory foam eartips correctly is essential for achieving the best comfort and audio experience with your headphones or earphones. Here's how to use them effectively:

Using Silicone Tips:

Select the Right Size: Most headphones come with multiple sizes of silicone tips. Start by trying different sizes to find the ones that fit your ears snugly but comfortably. A proper fit is crucial for sound quality and noise isolation.

Clean Your Ears: Before inserting silicone tips, make sure your ears are clean and dry. Excess earwax or moisture can affect the seal and comfort.

Roll or Flatten the Tip: To insert silicone tips, you can either roll the tip between your fingers to compress it, or you can gently flatten it. This reduces the diameter, making it easier to insert into your ear canal.

Insert Gently: Hold the earphone at the base of the eartip and gently insert it into your ear canal. Do not push too hard or force it in. Instead, use a gentle twisting motion while pushing slightly until the eartip forms a good seal.

Check the Seal: After insertion, check for a proper seal by listening to audio. If the seal isn't secure, you may experience reduced bass response or poor noise isolation. Adjust the eartip position if necessary.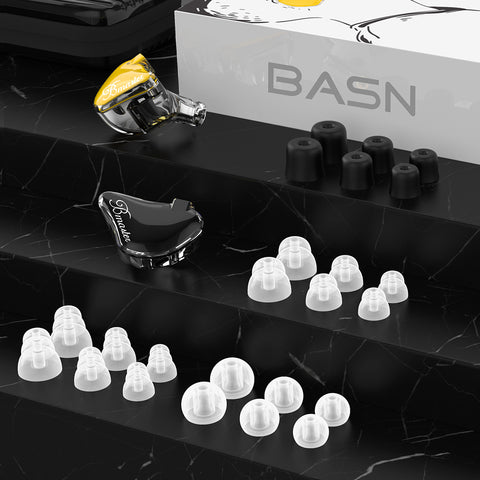 Using Memory Foam Tips:

Select the Right Size: Like silicone tips, memory foam tips come in various sizes. Choose the size that fits your ears comfortably and provides a secure seal.

Compress the Foam: Squeeze the memory foam tip between your fingers to compress it. This reduces its size, making it easier to insert into your ear canal.

Insert Slowly: Insert the compressed memory foam tip into your ear canal slowly and gently. Unlike silicone tips, memory foam tips will expand to fit the shape of your ear canal over a few seconds.

Hold in Place: After inserting the memory foam tip, hold it in place for a few seconds to allow it to expand fully and create a tight seal.

Check for Seal: Ensure that the memory foam tip has expanded to fill your ear canal and is forming a good seal. Adjust the position if needed.

Repeat for the Other Ear: If you're using in-ear headphones, repeat the process for the other ear, making sure to use the appropriate size for that ear as well.

Remember that achieving a proper seal is crucial for both comfort and sound quality with silicone or memory foam tips. If you experience discomfort or if the seal is not secure, try different tip sizes or types until you find the best fit for your ears.
Memory foam tips and silicone tips are two common types of earphone tips, and each offers its own set of benefits:

Memory Foam Tips:

Comfort: Memory foam tips are designed to conform to the shape of your ear canal as they warm up, providing a comfortable and secure fit. This reduces pressure points and discomfort during extended listening sessions.

Noise Isolation: Memory foam tips create an excellent seal in the ear canal, which helps to block out external noise, resulting in improved passive noise isolation. This is particularly beneficial in noisy environments or during travel.

Improved Sound Quality: The tight seal achieved with memory foam tips enhances the bass response and overall sound quality of your earphones by minimizing sound leakage and interference.

Reduction of Ear Fatigue: Because they conform to the shape of your ear canal, memory foam tips distribute pressure more evenly, reducing the likelihood of ear fatigue or soreness.

Secure Fit: Memory foam tips are known for their secure fit, making them ideal for sports and physical activities. They are less likely to fall out of your ears during movement.


Silicone Tips:

Durability: Silicone tips are typically more durable and long-lasting compared to memory foam tips, which can degrade over time due to moisture and oils from the skin.

Easy to Clean: Silicone tips are easy to clean and maintain, making them a hygienic choice, especially if you frequently share your earphones.

Hypoallergenic: Silicone is a hypoallergenic material, making it suitable for individuals with skin sensitivities or allergies.

Variety of Sizes: Silicone tips often come in a variety of sizes and shapes, allowing you to find the perfect fit for your ears, which can be particularly important for comfort and sound quality.

Less Earwax Absorption: Silicone tips are less prone to absorbing earwax compared to memory foam tips, which can become less effective and unhygienic over time if not cleaned regularly.

Ultimately, the choice between memory foam and silicone tips depends on your personal preferences and priorities. Memory foam tips excel in comfort and noise isolation, while silicone tips are known for their durability and ease of maintenance. Experimenting with both types can help you determine which works best for you.
---